Seraka Dance Company Proudly Presents
Aqueous
A Harmonious Presentation of Belly Dance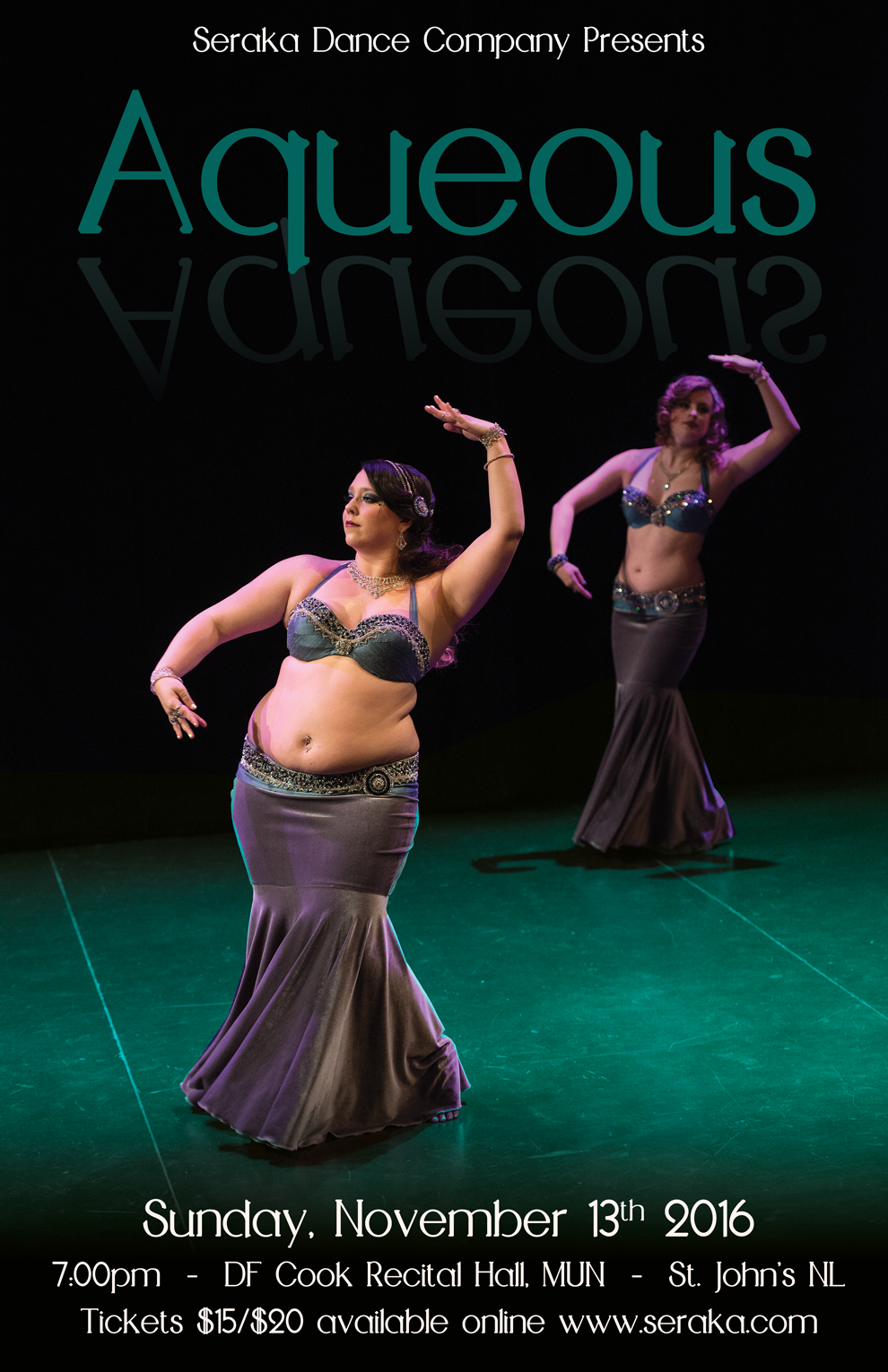 Liquid | Dark | Light | Release | Force | Crash | Spiral | Isolation | Tide
Those who have lived and visited Newfoundland are no strangers to the majestic beauty and turbulent nature of the sea. This showcase explores the diverse facets of the ocean through alluring hypnotic movement that reflects both its tranquility and unforgiving power.
---
Sunday, November 13, 2016
DF Cook Recital Hall, Memorial University
Doors open at 6:30pm | Show starts at 7:00pm
**ADVANCE TICKET SALES END SATURDAY**
---
Seraka Dance Company's "Aqueous" provides a rare presentation of a seamless themed dance set comprised solely of belly dance numbers performed by local dancers. This set was envisioned and music assembled before the choreographies were started, allowing the ebb and flow of the melodic soundscape to inspire movements that imbue fluidity.
It brings together a cast of 16 different local belly dancers to work towards the same movements, combinations and choreographies. These artists, from various troupes and belly dance backgrounds, have been working together very closely for an extended period of time to create one harmonious presentation of local belly dance.
Cast
Amelia Hawkins, Andrea Roberts, Ashley Hobbs, Charity Tobin-Spurrell, Diana Boyd, Janice Martin, Karen Erl, Mallory Power, Mary Farrell, Melissa Porter, Peggy Rauman, Rebecca Bock, Samantha Carroll, Susan Crocker, Vanessa Paddock, Wendy Osmond.
Choreography By
Karen Erl, Mallory Power, Melissa Porter, Susan Crocker & Vanessa Paddock.
---

Peek at the event on Facebook. Photo by J.Reid Studios.
Tickets $20 At The Door
Advanced ticket sales have now closed. Tickets purchased in advance will be held at the door in your name.
Tickets are available at the door for $20. Cash Only.
All tickets are final sale, and non-refundable.
---