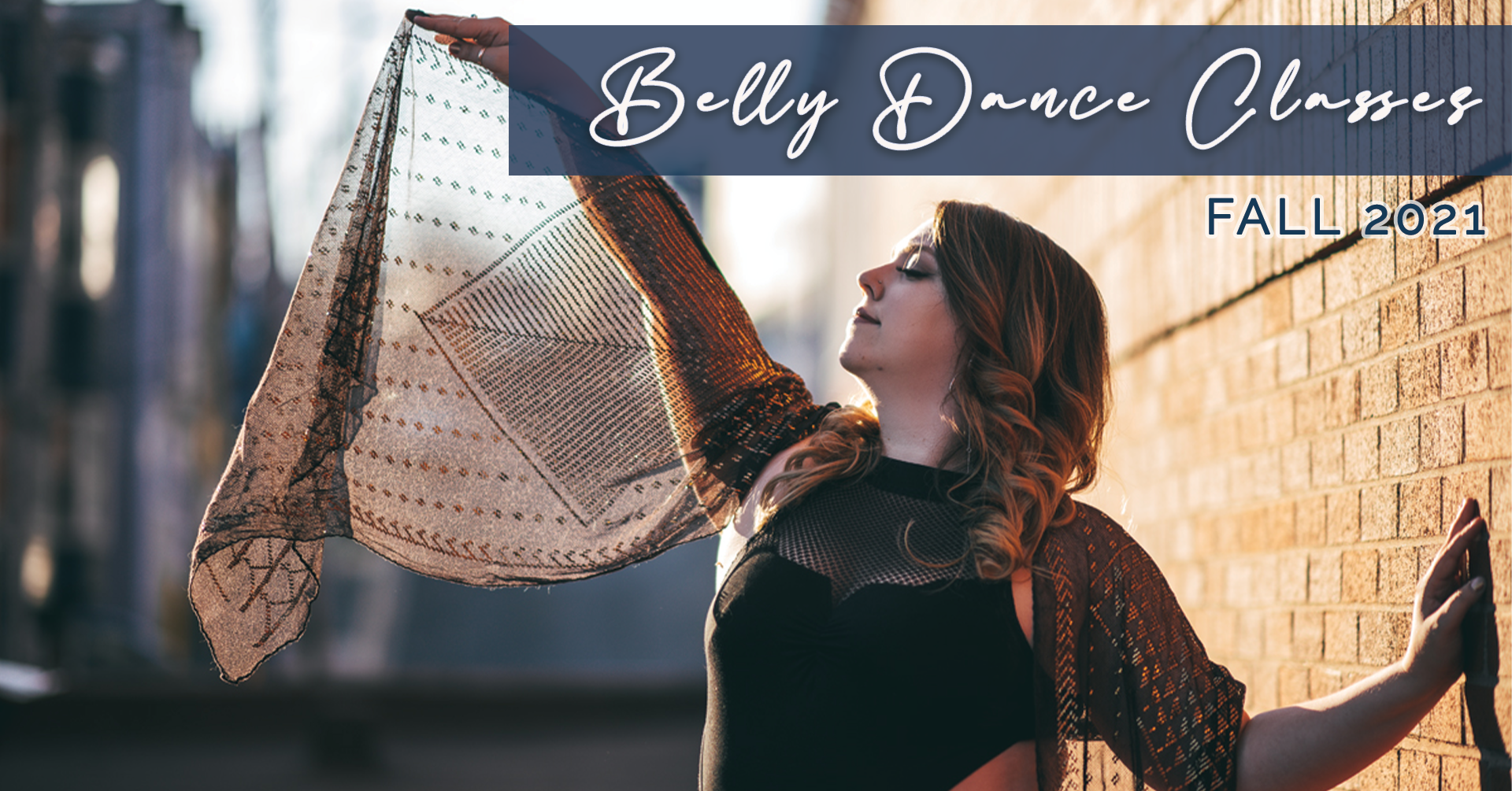 Classes with Seraka Studios
Contemporary and fusion belly dance classes are held through Seraka Studios, under the lead instruction of Vanessa Matthews.
We believe that every dancer is unique, with different abilities, learning styles, and motivations for dancing.  The ultimate goal of classes with Seraka Studios is to spark a passion for belly dance in whichever stylization you would like to embrace.  We want to help dancers not only understand the body and fundamental vocabulary and repertory, but to cultivate a deeper understanding of modern belly dance.  We wish to inspire creativity and to spark a desire to better yourself in dance, with an eagerness to push your own limits and reach your goals in dance.
Fall 2021 Term
Schedule
Our Fall 2021 Term is broken into TWO 6-week sessions:
Session #1 starts the week of September 12th
Session #2 starts the week of November 7th
UPDATE (Sep 11, 2021)
Due to Hurricane Larry clean up efforts, we're delaying the start of the Sunday classes in Session #1 by one week. Fundamentals Session #1 will run Sep 19/26, Oct 3/10/17/24 instead. Music for Dancers series has been cancelled entirely. All other series and classes are unaffected.
| Time | Session #1 | Session #2 |
| --- | --- | --- |
| Sundays 6:30-7:30pm | Fundamentals | Fundamentals |
| Sundays 7:45-8:45pm | | Veil Choreography |
| Wednesdays 8:30-9:30pm | Technique (multi-level) | Technique (multi-level) |
How to Register
Wait for your instructor to email you confirmation of your registration.
Visit Seraka Studios online shop to pay your tuition in advance (via Square), or wait until the first day of classes to pay in person (cash in exact amounts, or Visa/Mastercard/Interact via Square).
Class Location
All classes will take place at Lynn Panting Dance (30 Harvey Road, St. John's NL). Please ring the door buzzer to the right-hand-side of the door and wait to be admitted.
Please remove outdoor shoes in the 1st floor lobby, and proceed upstairs to the waiting room, or to your class's designated studio.
COVID-19 Protocol
We will follow the studio's COVID-19 Protocol found here.
While the special measures order for mandatory masks in indoor public spaces has been lifted, LPD will require masks in the common areas and while moving between classes. Masks are recommended for (…) anyone who is unvaccinated. We will also mask up for partner and close group work. If a dancer has a respiratory issue, please alert your instructor, take breaks, and remove your mask as needed.
UPDATE (Oct 08, 2021)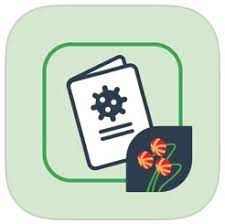 Effective October 22, 2021 all classes with Seraka Studios will be under a Vaccine Passport mandate by Public Health. We will be checking vaccine status using the official NLVaxPass app. Only students who are fully vaccinated will be permitted to participate in studio as of this date.
We respect your right to chose your health and wellness journey. Should you not wish to show your vaccine status for check, or you are making the choice not to vaccinate, we will accept this, however you will not be permitted to join class per the new GovNL Public Health guidelines, found here:
https://www.gov.nl.ca/covid-19/life-during-covid-19/vaccination-record/citizens/
By October 22, 2021, you must be fully vaccinated or have an approved medical exemption in order to access the following businesses and settings:

Indoor gyms and fitness facilities, yoga studios, and dance studios
Places where group music, art, dance, and drama activities are practiced indoors, including bands, choirs, dance and music classes
Class Descriptions
The instructor ensures each class is open and friendly, and that the environment is welcoming for dancers of all ages, shapes, sizes and backgrounds.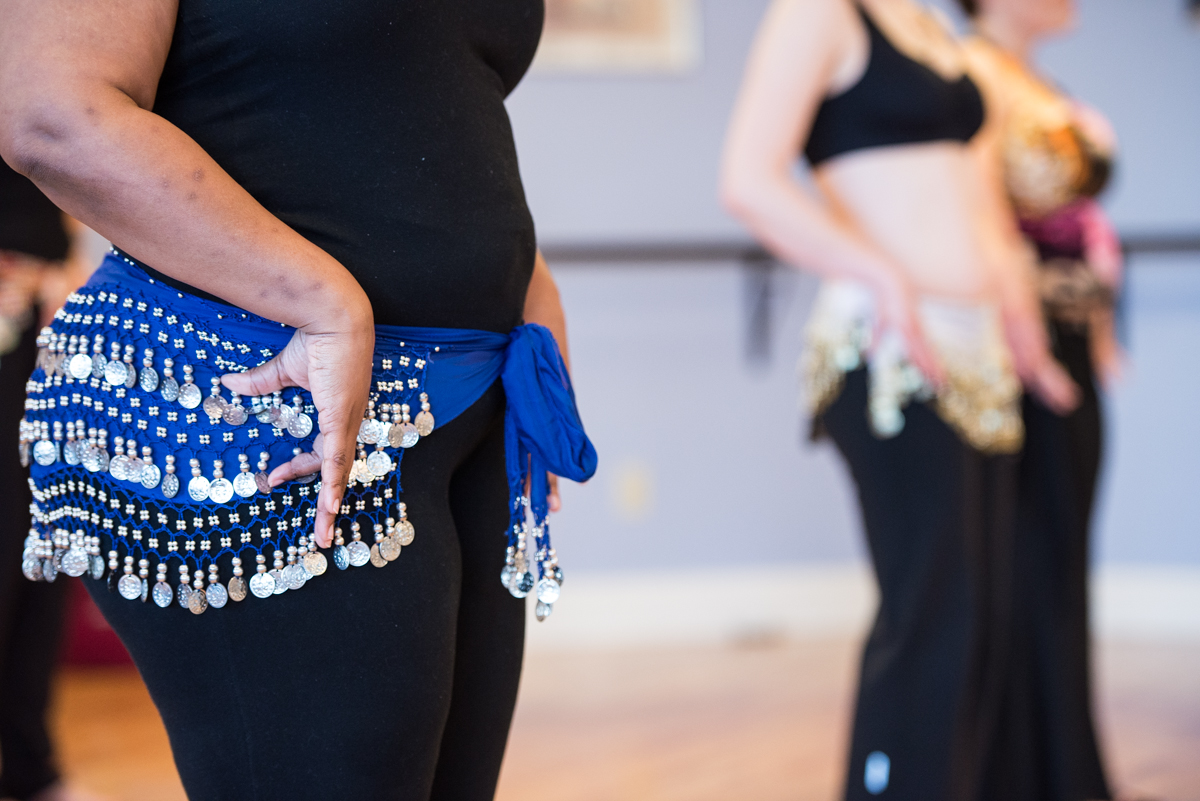 Fundamentals
Fundamentals is a light-hearted series that covers the essential movements, music, and technique. It's a great introduction into the world of belly dance, and will give you the building blocks to integrate into higher levels. In this series you will explore;
body posture and positioning
essential isolations of the chest and hips
undulations and shimmies
music and varieties of belly dance genres
There is no choreography for this series, however short combinations are taught to apply your new dance skills.
This class is best suited to new students, and students who are experienced in other styles of dance but new to belly dance.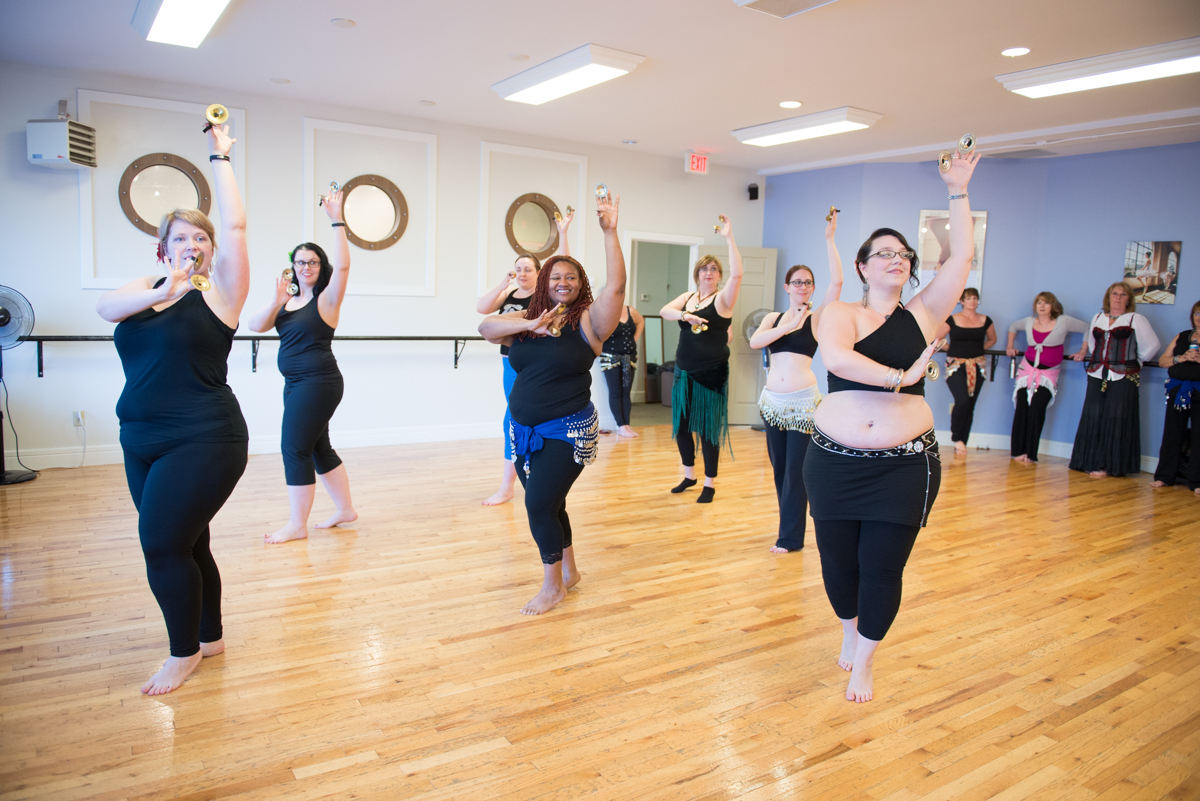 Technique
This sweaty series expands movement vocabulary and technical proficiency to broaden your dance toolkit. Modifications will be offered for those looking to increase complexity of the exercises for those studying at a Level 1, Level 2, or Level 3. In this series you will explore;
Drilling isolations, shapes, and movements
Stationary and across-the-floor exercises
Refining shimmies and undulations
Distinguishing movement qualities for stylization
There is no choreography for this series, however combinations may be taught as needed.
This class is best suited for students with some belly dance experience (Fundamentals or higher).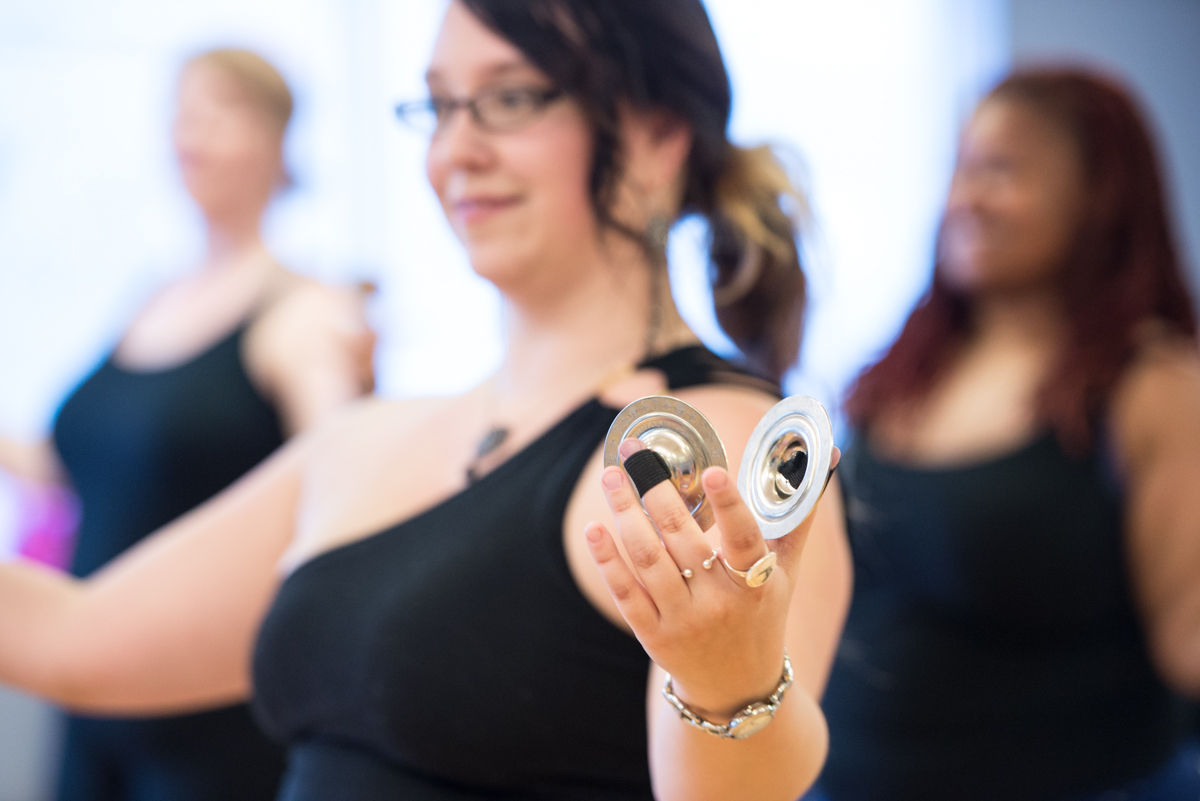 Music for Dancers
Music and movement are two independent art forms, however dancers embody and intertwine the two art forms beautifully. Increasing our knowledge of music and how it is put together will increase our ability to fit dance to music, and how to express music in a meaningful way. In this series you will explore;
Active listening skills
Beat vs rhythm
Harmony vs melody vs accompaniment
Dynamics and energy
Phrasing and structure
Mapping for choreography
There is no choreography for this series, however the instructor will guide time for movement play and exploration.
This class is suitable for all students (and is not belly dance specific).
Cancelled for Fall 2021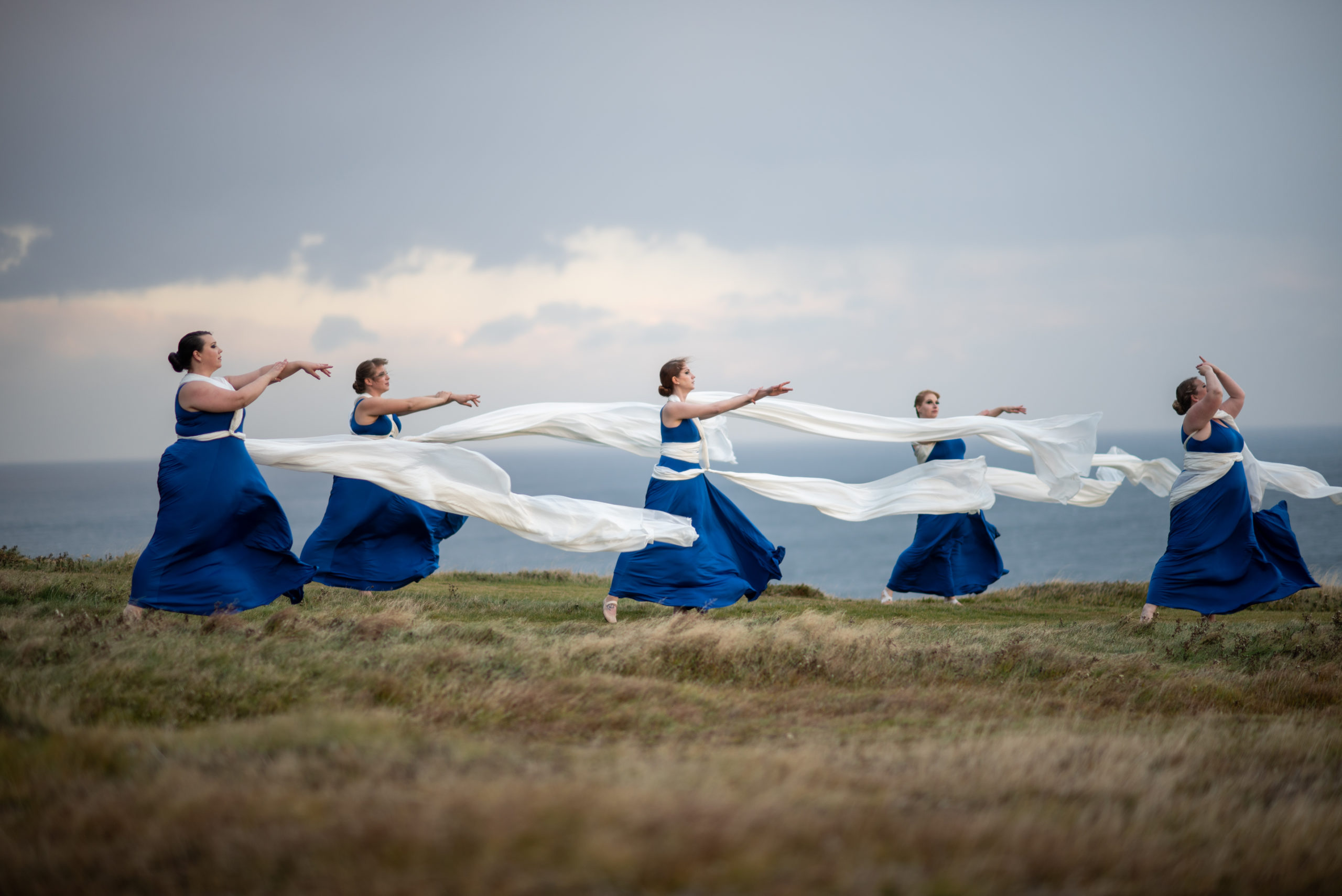 Veil Choreography
Learning a dance presents a variety of challenges; technique, movement transitions, musicality, memorization, and more. In this Veil Choreography series, you'll study and learn a full-length routine that incorporates a beautiful silk or chiffon "dance partner". In this series you will explore;
Strength and flexibility of the arms, shoulders, and upper back
New turns, refined spotting, and balance stability
Breakdown of movements (steps, weight transfer, and technique)
Tips and tricks for remembering sequences, order, and sections
Repetition, repetition, repetition…
This series is best suited for those with some belly dance experience (Fundamentals or higher).