Veil Choreography
Congratulations! You're taking classes with Seraka Studios. Below are some resources that can help you with your home study. All of the information below is voluntary and is not required to prepare for classes, it's just for your enjoyment.
Fall 2021:
Sundays @ 7:45pm – 8:45pm
November 7, 14, 21, 28 and December 5, 12
Studio Location:
Lynn Panting Dance
30 Harvey Road, St. John's NL
Please press the buzzer and wait to be admitted
Instructor:
Vanessa Matthews
709-693-9259
classes@seraka.com
Facebook
---
Announcements
---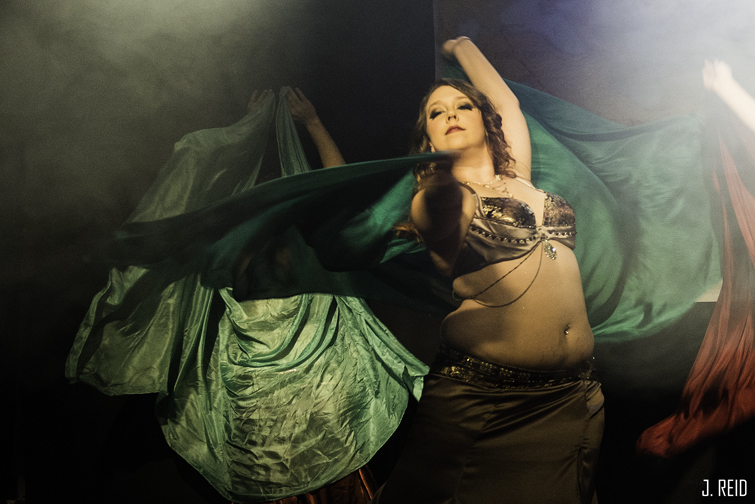 Veil Sizing
A veil is a large piece of fabric that is held between the fingers and is used by the dancer to frame themselves and add a dynamic "dance partner" (catching some big air during turns).
The fabric/colour of your veil is up to you, but you should look for a semi-sheer and light-weight fabric. Chiffon is a little heavier and easier to predict. Silk is lighter so it floats, but does have a mind of its own (a fun game!)
Your veil should be
Rectangular (not circle or semi-circle).
Wide enough to cover from your collarbone to the tip of your middle finger. About 1.0m to 1.25m wide (45″ is standard).
Long enough to hang over your extended arm and almost touch the floor with both short-edges. About 2.0m to 2.5m long (105″ is standard).
Your instructor will have some veils for purchase, or you can buy one online from any retailer you'd like. You can even get creative and cut/make your own so that your veil can be as unique as you are.
---
Class #1
Read
Watch
Listen
"The 7 Veils Dance (Magic Dances, Vol. 1)" by Nesma (2008).
---
Class #2
Read
Watch
Listen
"Egyptian Drum Passion: Belly Dance Drum Solos" by Cairo Tabla All-Stars (2013).
---
Class #3
Read
Watch
Listen
"Modern Bellydance Music" by Armen Kusikian (2013).
---
Class #4
---
Class #5
---
Class #6
---
Dance At Home!
Below are great online classes that you can sign up for, and continue dancing at home between dance classes and sessions! The teachers, and their content, style, and approach to learning cannot be recommended enough as supplemental studies to your regular classes.
Datura Online by Rachel Brice
Audra Simmons on Patreon
Online Classes with Aziza
Online Classes with Melissa Gamal