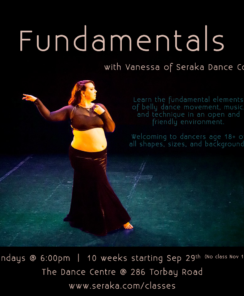 posted on
August 20, 2019
by
Vanessa
in:
Magpie's Nest
,
Seraka Studios
With some downtime since our last class semester, I've had the time to think and restructure some of the class formats.  One of them that's been re-structured is our Fundamentals class.
Previously Fundamentals was a 5-week mini-series that just touched on the surface level of some dance moves, and included a moderate section of each class on some non-dance concepts and discussions.
The NEW Fundamentals is now a 10 week course where you get to dive a little deeper into the concepts, work with the movements more and in greater detail, and we get to play with combos and (light) improv more. There's a new musicality component built into each class, so you'll train your ear and learn new rhythm structures as you go. There's also a new super-secret page for class dancers with fun link with articles, books, videos to watch, and music to listen to (if you want to study a little at home).
The new 10-week semester begins September 29th 2019 @ The Dance Centre (286 Torbay Road, St. John's NL)
Fundamentals (New/Beginner) @ 6:00p – 7:00p
Study Sessions (Intermediate/Advanced) @ 7:05p – 8:05p
Registration open now!