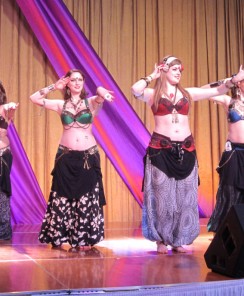 posted on
January 20, 2013
by
Vanessa
in:
Performances
Wow. I can't speak for the other girls, but the recent performances for us have been most excellent! We not only got to share the stage with our friends The Island Belles, but we also got the extraordinary opportunity to dance for the Premier!
This past week has been, needless to say, filled with rehearsals as we rehashed an old choreography to Beat Antique's "Egyptic."  We ended up axing the middle 'ghetto rap' section (as we all lovingly called it) and substituted it with some fancy feet, and by fancy, I mean cross-touches… which isn't fancy at all… but they're super fun! So we gave it our all at OvationsNL, presented by Premier Kathy Dunderdale and hosted by Republic of Doyle's Krystin Pellerin! Epic.
(If you're a tweeter, check the thread for #OvationsNL)
One of the most interesting things that I found was that from the last time we performed this piece (almost a year ago) to now, we've gelled as a group. Our movements are connected with the dancers around us and we're aware of each other as we move about on the stage. We're more synchronized, not because we've rehearsed the choreography, but because we've been dancing together so frequently, and creating pieces together as a group, making leaps and bounds in our progress over the past year.  We're in tune with each other and we react to each other. I'm proud to say that we're not just a group of dancers, but we're a group of dancers dancing together. While logic says that would happen eventually, I didn't expect it to happen quite so soon.  It's a beautiful thing to see, and it warms my heart.
I love these ladies.
Cheers
V