Seraka Dance Company Proudly Presents
Synthesis: Audacity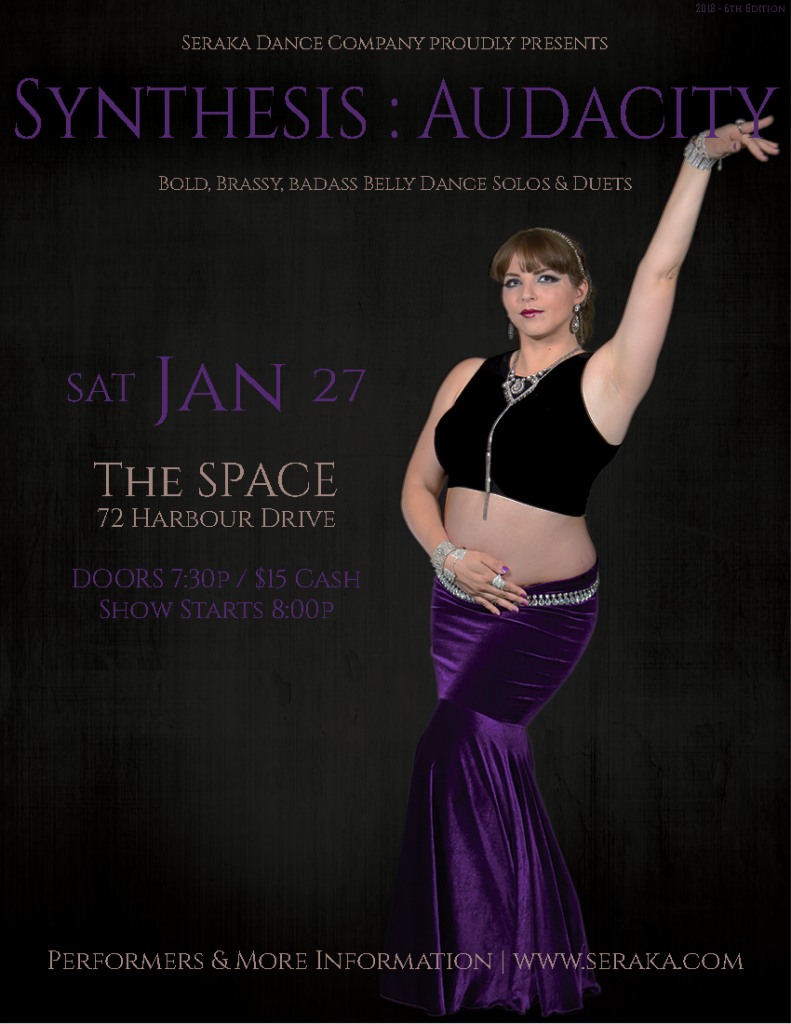 ---
The SPACE, 72 Harbour Drive
Saturday, January 27, 2018
Doors open 7:30pm, Show starts 8:00pm
---
Admission: $15 (cash) at the door
---
Throw your notions of belly dance out the door; Seraka Dance Company proudly presents an evening of non-traditional belly dance solos and duets, in a bold way.
In the 6th edition, this show is AUDACITY (n: the willingness to take bold risks). It's about strength, sauciness, and being downright badass!
Local belly dance artists from beginner to advanced are encouraged to meld new and unusual incantations of belly dance movement vocabulary, and sprinkle in modern or electronic music, and contemporary concepts – all with a brassy and brazen attitude. Dancers may embrace the music, the costuming, the movements, all (or none) of the above.
---
Performances By
Sarah Carter, Elaine Dunphy, Erin Dunphy, Mallory Power, Suzanne Norma, Cheryl Dearing, Kristen Marsh, Rebecca Wells, Amelia Hawkins, Sam Carroll, Mary Farrell, Kim Ficken, Peggy Rauman, Kara Pender, Ashley Hobbs, Vanessa Matthews, Karen McBride, and Susan Crocker