Seraka Dance Company Proudly Presents
Synthesis: Daydream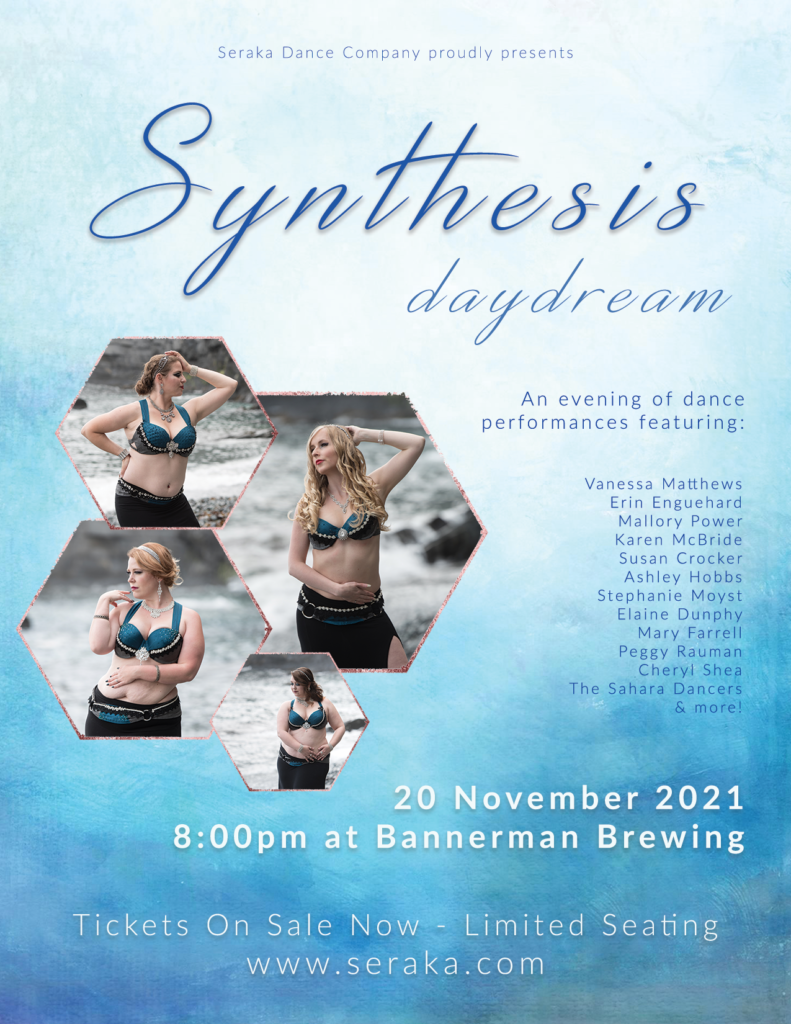 ---
Bannerman Brewing Co. @ 90 Duckworth Street
Saturday, November 20, 2021
Doors open 7:30pm, Show starts 8:00pm.
---
Seraka Dance Company presents "Synthesis: Daydream" – an evening of non-traditional belly dance performances. This 8th annual show plays with the idea of daydreams, pastels, clouds, lightness, whimsy, and fantasy. It explores dances about growth, changes, reminiscing, and lost thoughts. Performers may embrace the theme through any of music, concept, props, movements, or costuming.
Performances By
Vanessa Matthews, Karen McBride, Susan Crocker, Mallory Power, Erin Enguehard, Ashley Hobbs, Peggy Rauman, Stephanie Moyst, Mary Farrell, Elaine Dunphy, and more!
Word About Synthesis
"After what seems like a lifetime of virtual rehearsals, livestreams, and ever changing plans, performers around the world have been longing for the stage. We are beyond excited to raise the curtain with Synthesis: Daydream, featuring performances by local belly dancers.
In its 8th production, this year's Synthesis provides a whimsical escape from reality, inviting dancers of a range of levels and styles to explore the theme of fantasy and dreams to create beauty from chaos. In keeping with previous productions, Synthesis: Daydream provides a supportive atmosphere where dancers can collaborate or perform a solo work, and continue to express their passion for belly dance. We can't wait to welcome you back to live performance!"
– Erin Enguehard, Seraka Dance Co.
---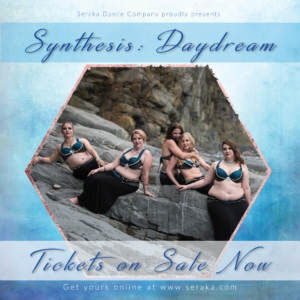 Admission is through advanced ticket reservation only. No seats will be available at the door.
All reservations are final sale, and non-refundable.
All reservations are electronic, and no physical ticket is issued or required for entry. Simply tell our host your name at the door.
---
COVID Protocols
NL VaxPass
Masks Required
Please wear a non-medical face mask which fully covers your nose and mouth for the duration of the show, including when seated, moving about the space, ordering at the bar, and watching the show. You can temporarily remove your mask to drink your beverages.
Sanitization
Please ensure that you use the provided hand sanitizer upon entry, when ordering at the bar, and prior to exiting the event.
Social Distancing
Chairs will be spaced accordingly to allow for modest social distancing. Tickets purchased together will be seated together. Please ensure you allow for 2 meters between you and other people when moving about the space.
More information about COVID-19 protocol and provincial guidelines can be found here.
---
Submissions for Performers
We are interested in shorter pieces for mixed programming, and will accept beginner, emerging, and experienced performers and community members.
Belly dance or complementary genres preferred, but all genres of dance welcome.
Ideally, pieces should be tailored to fit theme in some way.
Solos, duets, and groups accepted.
Collaborations encouraged.
This is a voluntary position; high-res photos and video of your piece(s) will be provided as a token of appreciation.
If you're interested in performing, please provide:
your name(s) as you wish to be billed.
best email contact for each performer.
general concept of your piece (if available).
Please email info@seraka.com to be considered:
Submissions open June 11, 2021.
Deadline October 15, 2021.
The lineup will be filled on a first-come, first-serve basis. Performer slots may be limited to conform with GovNL and NL Public Health Measures for COVID-19 as appropriate.