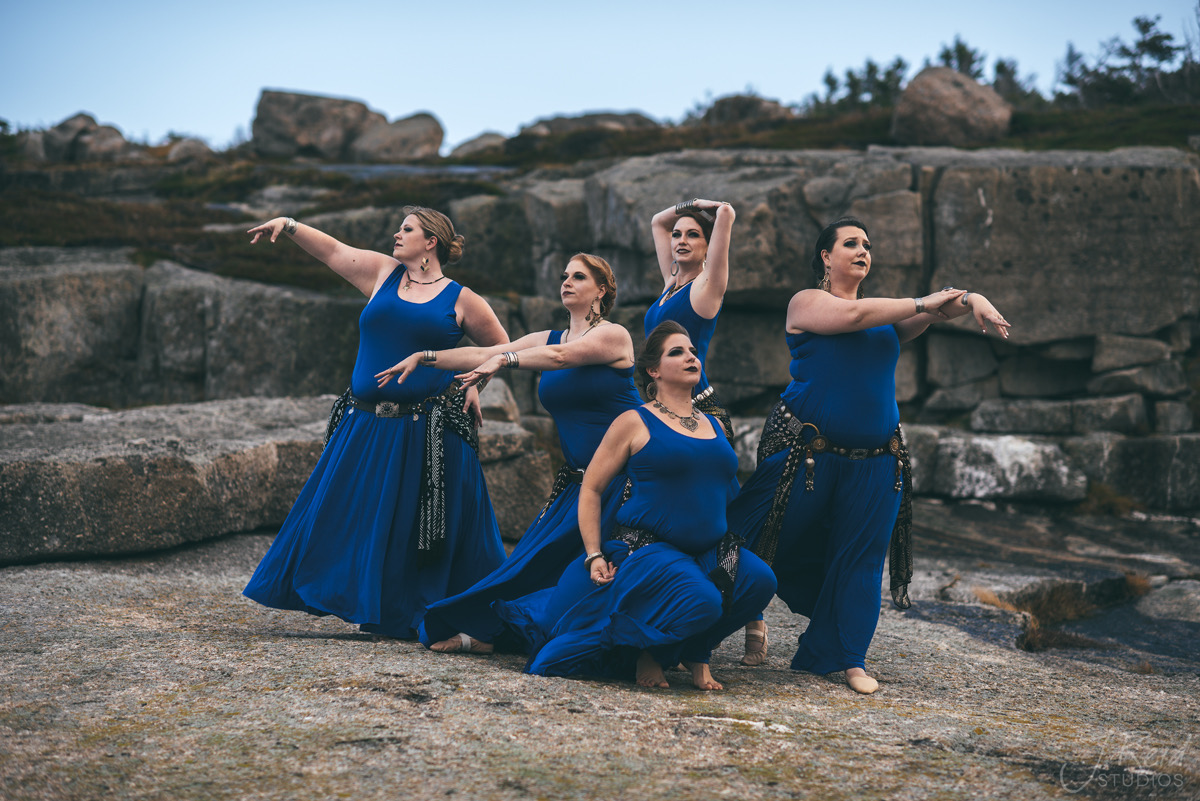 Seraka Dance Company
Contemporary and fusion dance in St. John's, Newfoundland
Composed of professional belly dance artists, Seraka Dance Company performs their signature style of contemporary and fusion dance in St. John's NL, under the artistic direction of Vanessa Matthews. Formed in 2010, the group is known for combining their precise technical skill, creativity in movement, and elegant costuming to present a unique experience of non-traditional dance.
The name Seraka is a variation of the Hungarian word meaning magpie; an intelligent and social bird known to gather bright, jewel-like, found objects to decorate their nests. Much like this collector, the all-female dance company strives to create their own interpretation of belly dance, blending stylized technique and motifs of Middle Eastern, North African, Hellenic, and Turkish (MENAHT) dances, with western dance concepts and movement genres, set to non-traditional music selections. The result is an expressive and engaging style of contemporary and fusion dance.
Most notably, the group has performed at Dance on the Edge by The Neighbourhood Strays (2011-2019), St. John's Pride Events (2017/2019), Downtown St. John's Buskers Festival (2015), Open by Dragonfly Productions (2019), Dance Week Cabaret by DanceNL (2019), Live Magazine (2017), OvationsNL for Premier Kathy Dunderdale (2013), CBC's evening news hour to World Cup Soccer Weekend (2013), Mama Soula's Restaurant with Greek band The Forgotten Bouzouki (2010-2011), and in Toronto at The Dark Harvest Gala with Mira Betz, Samantha Emanuel, Heather Stants, and Audra Simmons (2012).  The group also frequents events such as the 24 Hour Art Marathon, as special guests at Here Kitty Kitty productions and The Island Belles productions, and various multicultural festivals.
Seraka has produced a number of full length works, including the vaudevillian variety show "A Night at the Caravanserai" and annual editions of the artistic solo and duets show "Synthesis". Seraka has also released 3 community-casted thematic productions "Aqueous" (2016), "Unknown" (2017), and "Sonder" (2020).
A number of the group's principal dancers hold certifications in Rachel Brice's 8 Elements "Initiation", in Audra Simmons' Dark Side Dance Program "Lavender", and in Fat Chance Belly Dance "General/Modern/Teacher/Business".