Emerging Artist Award
ArtsNL Nomination Support Material
Award Description & More Information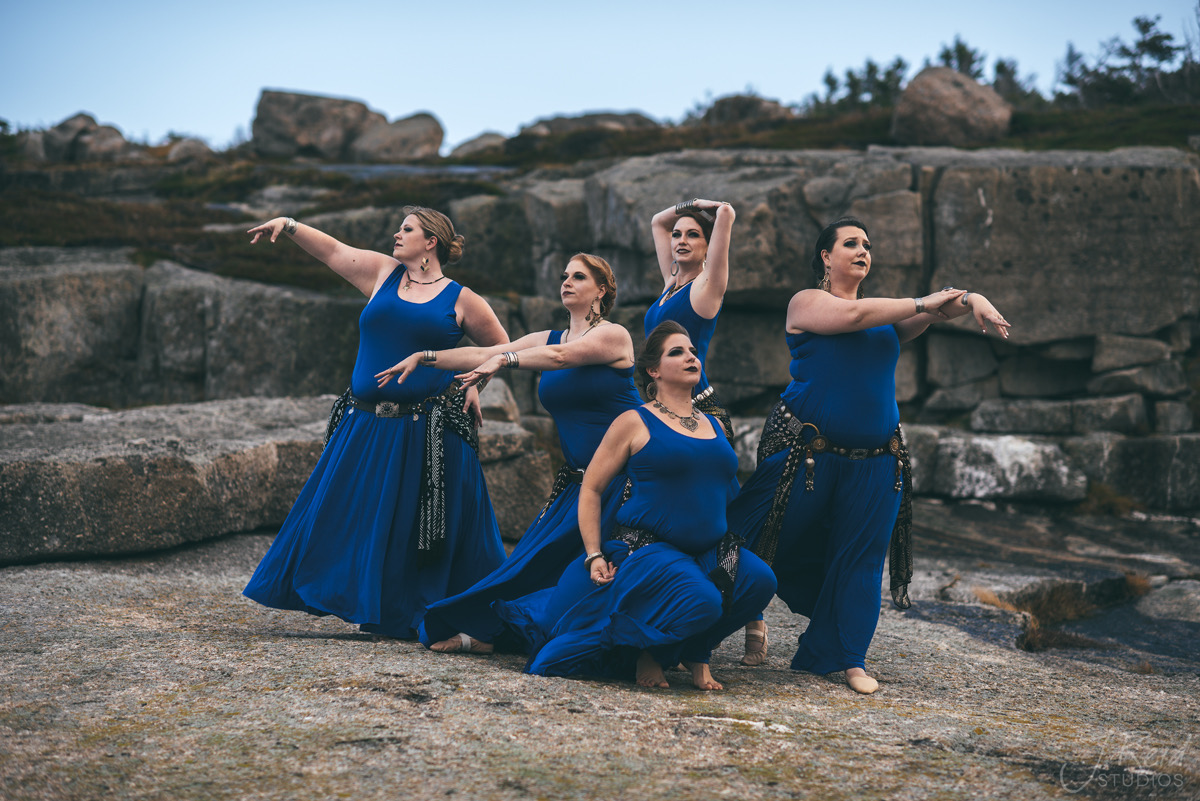 Biography
Composed of professional belly dance artists, Seraka Dance Company performs their signature style of contemporary and fusion dance in St. John's NL, under the artistic direction of Vanessa Matthews. Formed in 2010, the group is known for combining their precise technical skill, creativity in movement, and elegant costuming to present a unique experience of non-traditional dance.
The name Seraka is a variation of the Hungarian word meaning magpie; an intelligent and social bird known to gather bright, jewel-like, found objects to decorate their nests. Much like this collector, the all-woman dance company strives to create their own interpretation of belly dance, blending stylized technique and motifs of Middle Eastern, North African, Hellenic, and Turkish (MENAHT) dances, with western dance concepts and movement genres, set to non-traditional music selections. The result is an expressive and engaging style of contemporary and fusion dance.
Most notably, the group has performed at Dance on the Edge by The Neighbourhood Strays (2011-2019), St. John's Pride Events (2017/2019), Downtown St. John's Buskers Festival (2015), Open by Dragonfly Productions (2019), Dance Week Cabaret by DanceNL (2019), Live Magazine (2017), OvationsNL for Premier Kathy Dunderdale (2013), CBC's evening news hour to World Cup Soccer Weekend (2013), Mama Soula's Restaurant with Greek band The Forgotten Bouzouki (2010-2011), and in Toronto at The Dark Harvest Gala with Mira Betz, Samantha Emanuel, Heather Stants, and Audra Simmons (2012).  The group also frequents events such as the 24 Hour Art Marathon, as special guests at Here Kitty Kitty productions and various multicultural festivals.
Seraka has produced a number of full length works, including community-casted productions "Aqueous" (2016), "Unknown" (2017), and "Sonder" (2020), as well as the vaudevillian variety shows "A Night at the Caravanserai" (2012-2018) and annual editions of the artistic solo and duets show "Synthesis" (2013-2022).
ONLINE
AWARD REQUIREMENTS
All principal dancers and directors reside in Newfoundland and Labrador and have for over a decade.
Seraka has rebranded and shifted focus, style, and medium over the past 2 years, emerging anew in the arts world with resounding recognition from community locally and internationally.
Photos
Artist Statements
"I can't imagine my life without this group of dedicated, hard-working women. I'm in awe of their creativity and overwhelmed by their love of this dance. These people are my people, and I think that connection is something special to have found through the arts – especially in such a niche stylization of dance. Through 2020 and 2021, Seraka Dance Co has explored our skill set and repertoire. We have finally come into our own as true artists and have found our unique voice. I believe that the pandemic has helped this by forcing us to cherish the limited and unstable times we've had in studio and focus on genuine creation in an honest way. This has led to some beautiful discoveries and growth both personally, professionally, and artistically. Our work has evolved to new mediums, and we've expanded our reach, with such wonderful praise from industry leaders worldwide. To be able to have community support like this is so special."
Vanessa Matthews
Artistic Director, Principal Dancer
"Being in Seraka Dance Company has been such a wonderful part of my life. It has helped me form friendships, express my creativity, stay active and made me more involved in the local art scene. I have been exposed to so much dance, music, photography, theater, and art simply by being a part of this wonderful group of dancers. Seraka has been an important part of my life since the day I joined, and it certainly became even more important for my personal well-being during the last 2 years while dealing with the effects of Covid-19. It gave me a sense of community and purpose throughout these challenging and isolating times."
Susan Crocker
Financial Director, Principal Dancer
"In recent years, with in person performances being limited, Seraka has been flexing their collective creative muscles into producing dance films. It's been a wonderful new medium to express and present dance. It allows for exploring different angles and transitions not possible in a traditional stage setting for dance. I have really enjoyed the creative freedom it provides; it allows me to tell a story without the bounds of linear time. It has also given me the opportunity to gain new skills in video editing, storyboarding, and film making. The past few years have felt rather disconnected from the dance community, creating dance films, and participating in online dance shows have helped me to form new, more global ties among dancers. I'm proud of the work we have made in the past few years and am excited to continue to explore new ways to share our art."
Karen McBride
Technical Director, Principal Dancer
"I have met the most amazing people and made some of the most meaningful connections of my life through belly dance. There is no better feeling than working hard, alongside of your closest friends, to create beautiful pieces of lasting art. By uniting our unique perspectives, we push boundaries and overcome obstacles together. When you create with people you hold so dearly, the results are precious mementos of the connection you have with each other. These types of connections build resiliency and have been an integral part of how I have gotten through the trying times we have faced in these last two years."
Mallory Power
Principal Dancer
Featured Videos
Achievements
The following is a list of Seraka specific work created between 01 Jan 2020 and 31 Dec 2021. Work done by principal dancers of Seraka, whether as Seraka or independently, are not listed here.
Please click each list item to be brought to supporting video and playlists online.
2 PRODUCTIONS
18 DANCE FILMS
18 CHOREOGRAPHIES
25 LIVE PERFORMANCES
An itemized list of public performances can be found here: www.seraka.com/performances
Community Support
ArtsNL Awards Long List Announcement
"That is amazing and so well deserved! Congratulations!!!" – Ainsley Hawthorn.
"Well-deserved, you have worked so hard." – Sam Collette.
"Y'all earned it and it's (in my professional opinion) long overdue. Congrats!" – Nick Green.
"Well deserved! congrats!" – Jared Reid.
"Congratulations!!!! Wonderful, wonderful!!" – Christina Penney Harris.
Synthesis: Daydream
"Gorgeous! You used such different movements and expressed a variety of qualities for the short repeated melodic sounds in the first part of the piece – that really got my attention as it was unpredictable. The softness and delicateness of the song was captured by the way you held your body, traveled and your movement qualities. And you were luxuriating in the music, waiting for the sounds without rushing. Beautiful job!" – Audra Simmons.
"Beautifully controlled and restrained! I also love your travelling movements and turns – it looks like you're gliding across the floor! So elegant!" – Angela Josephine.
"That was lovely, I was captivate by the softness of the music and the strength of your movement. Beautiful!" – Maria Sousa.
"Wow! What a rich emotional interpretation! Costume, music and you, gorgeous." – Cate Weir.
"It was so heartfelt and honest. And yes, that skirt!!!" – Stacey Esther.
Seaside
"This film was so mesmerizing to watch. The ruggedness of the seaside and then the beautiful flow and movement of each of you dancing. The blue overskirts flowed like water. Loved how you all interacted with the camera!! You gals are doing amazing work with movement and using such incredible backdrops!! Congrats!!!" – Elaine Marie Dunphy.
"I absolutely loved everything about this! What a beautiful, powerful, hypnotic piece!" – Peggy Harrison.
"GORGEOUS STUNNING BRAVO. I admire you all and your art. Well done friends" – Angela Josephine.
"Do yourself a favour and watch this gorgeousness!!! Bravo Seraka Dance Company." – Audra Simmons.
Summer Series
"This turned out amazing! The editing is perfect, so glad we were a small part of it!" – Natalie Austin.
"WOW! This music!! Hopeful and beautiful. You're dancing in complete bliss, so graceful and elegant and the lupins were dancing with you through the whole thing. Filming is magical, too! Bravo!" – Elaine Marie Dunphy.
"Watching your dance fills my heart with love and joy. Your performance is so graceful and lovely, it is fantastic in so many ways." – Pat Paddock.
Patterns
"This is so, so beautiful. I didn't want it to end!! Also, nobody looked as freezing as I know you totally were!" – Andrea Noftall Walsh.
"So incredibly well done – the striking blue costumes with the white silk tethers, the backdrop of the ocean, the rocks and cliffs – it was a treat to watch. Watching it come to life through your coffee table chat format let your genuine connection with each other shine through. To see both pieces at the end was a sincere treat. Bravo to all involved. Loved every moment of Patterns! Xo" – Elaine Dunphy.
"Wow how gorgeous." – Nawal Doucette (Egypt).
"Sooooooo gorgeous." – Michelle Sorensen (USA).
"I just had a chance to watch, and I have so much to say! What a special production. I was fascinated to hear the way you worked around COVID to create your choreography. I loved hearing about the process behind it. The setting was absolutely perfect (weather and all) to evoke such emotion from the movements. It made me miss home (the coasts of Cape Breton, but still…). Your dresses lent so well to the mood, and I loved the contrast between the short assuit belts and the long (10 meters?!?) silk wraps. The elegance of "patterns" was stunning and then the power behind the smaller movements and isolations in "patterns remix" was such a perfect complement! You must be so proud of this production! Congrats and SO, SO well done!" – Michelle Kaplan.
I Wanna Dance with Somebody
"It makes me want to dance with you." – Christine Norman.
"God love you guys; I wouldn't have been able to handle the mosquitoes!" – TerriLynn Colford.
"This is beautiful! So very the times, and it was almost painful to watch because I miss dancing with people so much… we all do. What a wonderful, wonderful piece to share with us. I'm looking forward to more Seraka. Happy Anniversary! And here's to 10 more years" – Audra Simmons.
"Oh who's cutting onions? I'm feeling this so hard. Beautifully put together. Lovely anniversary to you." – Andrea O'Neill.