Erin Enguehard
Principal Dancer (Jan 2018 – Present)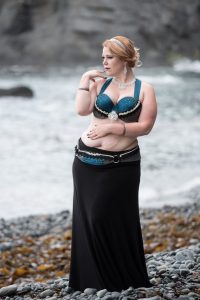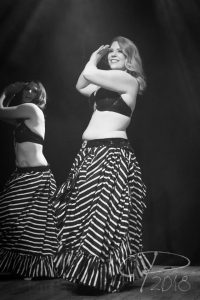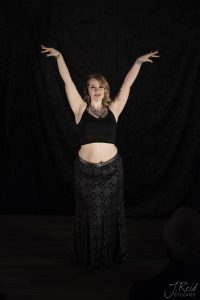 Stylizations:
Contemporary, Tribal Fusion, and Modern Belly Dance
Specialties:
Finger Cymbals, Choreography, Costume Design
Affiliations:
2018 – Present  |  Seraka Dance Company (Principal Dancer)
---
Curriculum Vitae
Certifications  |  Intensives  |  Study  |  Production  |  Performance
This CV is comprehensive and includes information that is current as of 18 September 2019. Items marked with an asterisk (*) are scheduled and pending completion. For more information about the items listed below please contact Erin directly.
---
Certifications
Dark Side Dance Program by Audra Simmons
2019 Jul 23  |  Certified Stage 1: Basic Black (24 hrs)  |  Toronto ON
---
Intensives
Audra Simmons (CAN)
2019 Mar 17  |  Take It Back Sampler (5 hrs)  |  St. John's NL
2019 Mar 16  |  The Lavish Dive (3 hrs)  |  St. John's NL
2019 Mar 16  |  New Fun Technique & Dance Combos (2 hrs)  |  St. John's NL
Michelle Sorensen (US)
2018  Aug 12  |  Master Class (2 hrs)  |  Halifax NS
2018  Aug 12  |  Milk It (2 hrs)  |  Halifax NS
2018  Aug 12  |  Semi-Automatic Shimmies (2 hrs)  |  Halifax NS
2018  Aug 11  |  Kotch If You Can (2 hrs)  |  Halifax NS
2018  Aug 11  |  Brush Strokes (2 hrs)  |  Halifax NS
2018  Aug 11  |  Drill Bits (2 hrs)  |  Halifax NS
---
Study
Company Rehearsals
2018 – Present  |  Seraka Dance Company (4-8 hrs/wk) |  St. John's NL
Regular Classes with Seraka Studios
2018 Jan – Mar  |  Level 2 with Vanessa Matthews (1 hr/wk)  |  St. John's NL
2017 Jan – Mar  |  Level 1 with Vanessa Matthews (1 hr/wk)  |  St. John's NL
2016 Oct  |  Fundamentals with Vanessa Matthews (1 hr/wk)  |  St. John's NL
---
Production
Seraka Dance Company
2019 Feb 09  |  Synthesis: Solos & Duets (Producer)
2018 Oct 06 |  Caravanserai: After Dark (Producer, Choreographer)
2018 Jan 27  |  Synthesis: Audacity (Producer)
---
Performances
2019
Sep 07  |  Here Kitty Kitty's "Rule 34"  |  St. John's NL
Jul 14  |  Pride & Progress Parade  |  St. John's NL
Jun 15  |  Vanessa Matthew's "Belly Dance Brew"  |  St. John's NL
Jun 01  |  Neighbourhood Strays' Dance On The Edge 11  |  St. John's NL
May 04  |  Dragonfly Production's "Open"  |  St. John's NL
May 04  |  DanceNL's "Dance Week Cabaret"  |  St. John's NL
Mar 16  |  Vanessa Matthew's "Belly Dance Brew"  |  St. John's NL
Feb 09  |  Seraka Dance Co's "Synthesis: Solos & Duets"  |  St. John's NL
Feb 02  |  Smoky Lane's "Love… Or Something Like It"  |  St. John's NL
Jan 19  |  Here Kitty Kitty's "Goes Wild"  |  St. John's NL
2018
Nov 17  |  Vanessa Matthew's "Belly Dance Brew"  |  St. John's NL
Oct 13  |  Here Kitty Kitty's "I Like Big Books" (Seraka)  |  St. John's NL
Oct 06  |  Seraka Dance Co's "Caravanserai: After Dark" (Seraka)  |  St. John's NL
Aug 25  |  Island Belles' "Rock The House" (Seraka)  |  St. John's NL
Aug 11  |  Serpentine Studios' "Michelle Sorensen Gala" (Seraka)  |  Halifax NS
Jun 02  |  Island Belles' "The Good, The Bad, The Fabulous" (Seraka)  |  St. John's NL
Jun 02  |  Neighbourhood Strays' "Dance on the Edge 10" (Seraka)  |  St. John's NL
Mar 10  |  Island Belles' "Bring the Heat" (Seraka)  |  St. John's NL
Jan 27  | Seraka Dance Co's "Synthesis: Audacity" (Solo)  |  St. John's NL