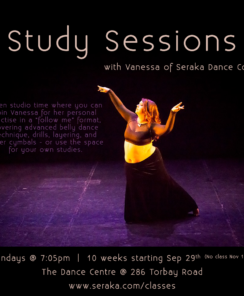 posted on
August 20, 2019
by
Vanessa
in:
Seraka Studios
As a teacher, I firmly believe that it is my responsibility to maintain my own proficiency and skills in order to be able to share my knowledge with my students. I value my own training, and travel regularly to study with master instructors. I consider myself a student first and a dancer second. I can only teach if I have those two experiences under my (coin) belt.
With that said, as I've been battling some fascia issues over the past while, my training has slipped to the small burner. I need a tune up, and I need to train for an intensive that I plan on attending in 2020, which requires some serious pre-work.  Partially to share with my students how I work in my own practise (and partially to hold myself accountable) I have decided to offer a new series.
Study Sessions is more of an open studio time, where I will be working on things that I need to work on as a student and as a dancer. The Study Sessions are not formally structured classes; I will not be breaking down new moves, I will not be sharing combos, I will not be "teaching" in a traditional sense.
I will be working through challenging isolations for crispness and clarity, for new pairings, and strengthening. I will take the isolation and movements travelling in complex pathways. I will take all of the above across the floor with finger cymbals. I will probably reset myself (and/or drop a cuss word) a few times, too.  It's working through the Dark Side Dance Program's Turquoise level components, and it's not easy, but I invite you to challenge yourself to follow along, or to take inspiration from my drills to make your own.
Alternatively, if you just want some time to hold yourself accountable, too, then use the Study Sessions for your own skills. Make up a combo, work on your own class content as review, use the time to fill out your dance journal – study in your own way.
The new 10-week semester begins September 29th 2019 @ The Dance Centre (286 Torbay Road, St. John's NL)
Fundamentals (New/Beginner) @ 6:00p – 7:00p
Study Sessions (Intermediate/Advanced) @ 7:05p – 8:05p
Registration Open Now