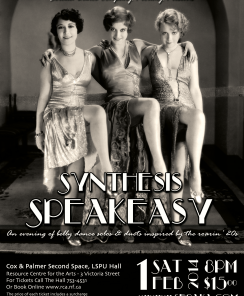 posted on
December 12, 2013
by
Vanessa
in:
Opportunities
,
Performances
We're a little late to the game with this post, but it's better late than never! We're producing another petite artistic show inspired by the roarin' 20s.
Synthesis: Speakeasy will be held on Saturday, February 1 at Cox & Palmer Second Space (in the LSPU Hall). Show starts 8:00pm and will run about 60-90 minutes, with a mixer to follow. This show is on a volunteer basis but we will have video and photo available to all performers.
The idea for this show is similar to the last, in that all pieces will be presented as a solo or a duet; no groups, no schools, no troupes, just you. We're welcoming new and experienced dancers to put forward a piece or two. We encourage connecting with dancers outside your regular group to make duet pieces, but you're certainly welcome to pair up with someone you usually dance with as well.
You can make your piece(s) as modern, fusion, classical, or tribal as you like. The only rules are;
pieces must be belly dance (whatever that means to you), and
pieces must be danced by 2 people or less, and
pieces must be 4 minutes long or less.
If inspiration strikes you, you could arrange your piece(s) so that they embody that roaring 20s era; swing, speakeasies, flappers, prohibition, vintage dance steps, etc. You can chose to do this in any way that speaks to you. This is entirely optional, but let's be honest, who doesn't like doing a little Charleston from time to time!?
If you're interested in doing a piece for this show, please let us know by Friday, December 13. For now, we just need to know if you're a yay or a nay, and if you're solo or part of a duet, and if you're planning on running with the Speakeasy theme or not. Email info@seraka.com to hop on the bandwagon.