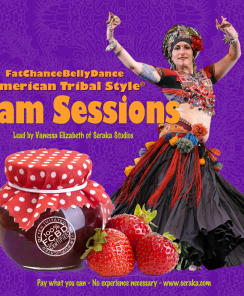 posted on
November 6, 2014
by
Vanessa
in:
Seraka Studios
American Tribal Style has hit St. John's!
American Tribal Style (ATS for short) is a modern style of belly dance created by FatChanceBellyDance director, Carolena Nericcio-Bohlman. ATS is clearly defined and documented with the primary characteristics being group improvisation, a distinct vocabulary and costume, and specific guidelines for leading and following. Seraka Studios is now offering ATS classes and Jam Sessions!

There are a few dancers in the St. John's area now that are familiar with ATS. Maybe you've studied ATS with Andrea Kitta. Maybe you're learning at Wild Lily. Maybe you've done your homework and are rocking out with the FCBD videos. Regardless, now's your chance to put your money where your mouth is, to get up and our of your seat, and practise all those moves in these "ATS Jam Sessions" – occasional sessions to drill, practise and really work out those steps with other dancers.  It's relaxed, it's casual, it's super-fun!
Dance, dance, dance. All dancing all the time.
Practise formations of duets, trios, and quartets
Build your confidence and take the lead
Train your eye and follow along
Take away a few news steps (Fast and Slow)
Smile often, laugh a lot, drink tea.
Upcoming ATS Jam Sessions
Dates? Mon Nov 24, Mon Dec 2, and Mon Dec 8.
Times? Mini Lesson 8:00-8:30pm.  Jam Session 8:30-9:30pm.
Location? Arts & Culture Centre Dance Studio (3rd floor, Mezzanine Gallery).
Facilitated by? Vanessa Elizabeth, certified FCBD ATS Teacher.
Experience Needed?  None.
Cost? Pay what you can.
If you're planning on attending, please reserve your spot by emailing info@seraka.com. Classes are first-come-first-serve.
No Experience? No Problem – join the Mini Lesson!
If you're new to the belly dance world, or if you're a seasoned pro but not with ATS simply pop by the Mini Lesson before the Jam Session starts.  Vanessa will lead the group and teach you the fundamental concepts of ATS including posture, formations, leader/follower, and a handful of steps from the slow and fast vocabularies that you can use to get yourself started.
Info on our regular fall session classes with Vanessa & Karen can be found here on our website, or here on the Facebook event.