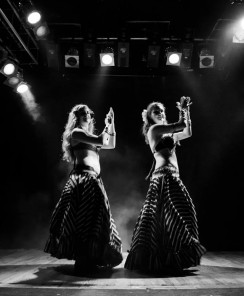 posted on
August 23, 2013
by
Vanessa
in:
Seraka Studios
It's here! It's here! It's the schedule for the Fall Session!! Registration is open now and you can secure your spot in class by emailing classes@seraka.com!
Location:
All classes will be taking place at The Dance Centre in Coaker's Meadow Plaza on Torbay Road, except for Technique 3 which will be held at Coastal Dance Company.
Technique & Conditioning:
Level 1: Sundays @ 6:30-7:30pm (Sep 15 to Dec 15) – New/Beginner
Level 2: Tuesdays @ 6:30-7:30pm (Sep 17 to Dec 17) – Intermediate
Level 3: Mondays @ 9:00-10:00pm (Sep 16 to Dec 16) – Advanced
14 weeks of 60 minute classes that will push your technique into high gear.  Light conditioning, integration of finger cymbals, plus heavy drilling of isolations, travelling, layering, turning, shimmies, and combination movements.
Session Pass ($175) is available for a fixed, single class each week all session, or for unlimited classes go for the Immersion Pass ($300). Drop-ins are welcome ($15), or you can pick up a 3 class ($40) or a 7 class ($90) punch card that's good for any level, any time during the session.
Creativity & Choreography:
Level 1 /2: Sundays @ 7:30-8:30pm (Sep 29 to Nov 3) – New/Beg/Int
Level 2 /3: Tuesdays @ 7:30-8:30pm (Nov 12 to Dec 17) – Int/Adv
These are 6 week long series (60 minute classes) that incorporate not only learning a full choreography by Vanessa, but also elements of improvisation and putting combinations together.  Each series is only $75!
Workshops:
Lavish Layering & Combinations: Tuesday, October 1 @ 7:45-9:15pm
Nomadic Travelling & Turning: Tuesday, October 15 @ 7:45-9:15pm
Bellyrolls, Flutters & Pops – OH MY: Tuesday, October 29 @ 7:45-9:15pm
Practise Companion: Sunday, November 10 @ 7:45-9:15pm
Jewels & Gems for Performances: Sunday, November 24 @ 7:45-9:15pm
¾ Shimmies & Variations: Sunday, December 8 @ 7:45-9:15pm
Each 90 minute workshop is suitable for all skill levels, and is only $20! Read about each workshop on the Class Descriptions page.