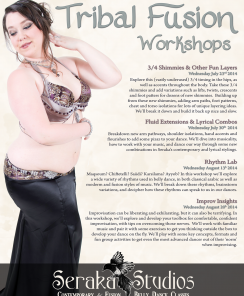 posted on
July 12, 2014
by
Vanessa
in:
Seraka Studios
We know you've been anxiously awaiting our schedule announcement, but fear not, the wait is over! Seraka Studios is going to be offering a condensed schedule with some snazzy workshops and lessons to keep you moving and shaking over the summer! Guaranteed to have laughter, new dances, and a handful of really zany sound effects.
All classes will take place at Coastal Dance Company (16 Stavanger Drive). Register by emailing info@seraka.com or classes@seraka.com.
——————————————————————–
TRIBAL FUSION FUNDAMENTALS
Sundays @ 6:30-7:30pm starting July 20 (5 week series)
Learn the fundamentals of belly dance movement, music and technique with this engaging 5-week series. You will be given the building blocks of this beautiful dance form and work through isolations of the chest, torso and hips, as well as shimmies, elegant foot and arm patterns, essential music theory for dancers, and fun dance combinations.
For: absolute beginners, two left feet, love music
Cost: $75.00 for full series, no drop-in please.
——————————————————————–
3/4 SHIMMIES & OTHER FUN LAYERS 
Wednesday, July 23 @ 6:30-8:00pm (workshop)
Explore this (vastly underused) 3/4 timing in the hips, as well as accents throughout the body. Take these 3/4 shimmies and add variations such as lifts, twists, crescents and foot patters for dozens of new shimmies. Building up from these new shimmies, adding arm paths, foot patterns, chest and torso isolations for lots of unique layering ideas. We'll break it down and build it back up nice and slow.
For: anyone with some belly dance experience, multi-level
Cost: $20.00
——————————————————————–
FLUID EXTENSIONS & LYRICAL COMBOS 
Wednesday, July 30 @ 6:30-8:00pm (workshop)
Breakdown new arm pathways, shoulder isolations, hand accents and flourishes to add some pizaz to your dance. We'll dive into musicality, how to work with your music, and dance our way through some new combinations in Seraka's contemporary and lyrical stylings.
For: anyone with some belly dance experience, multi-level
Cost: $20.00
——————————————————————–
RHYTHM LAB
Wednesday, August 13 @ 6:30-8:00pm (workshop)
Maqsoum? Chiftetelli? Saiidi? Karsilama? Ayyob? In this workshop we'll explore a wide variety of rhythms used in belly dance, in both classical arabic as well as modern and fusion styles of music. We'll break down these rhythms, brainstorm variations, and decipher how these rhythms can speak to us in our dances.
For: anyone with some belly dance experience, multi-level
Cost: $20.00
——————————————————————–
IMPROV INSIGHTS
Wednesday, August 20 @ 6:30-8:00pm (workshop)
Improvisation can be liberating and exhilarating. but it can also be terrifying. In this workshop, we'll explore and develop your toolbox for comfortable, confident improvisation, with tips on overcoming those nerves. We'll work with familiar music and pair it with some exercises to get you thinking outside the box to develop your dance on the fly. We'll play with some key concepts, formats and fun group activities to get even the most advanced dancer out of their 'norm' when improvising.
For: anyone with some belly dance experience, multi-level
Cost: $20.00
——————————————————————–