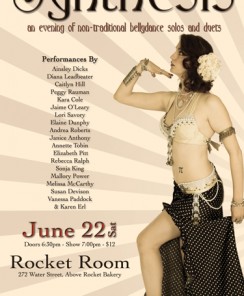 posted on
June 12, 2013
by
Vanessa
in:
Events
,
Opportunities
Ladies & Gentlemen! We're looking for some volunteers to help out at our upcoming Synthesis show on Sat. June 22 (6-9pm):
Tickets & Merchandise

taking tickets at the door
selling tickets at the door
selling t-shirt and tank tops during intermission

Silent MC

also known as our Sign Girl (like in boxing, but cuter)
walk across the stage before each number, holding a board with the performer's name and piece title
bonus if you have neat printing
double bonus if you want to wear a costume

Music/Video Guru

press play… on both our iPod and our Camera.
press pause… press play… press pause…
…you get the idea.
Interested? Know a friend? Just want a free ticket and you don't mind helping out to get one? Send an email to info@seraka.com